The May 2010 flood was a 1000-year event that devastated the greater Nashville area. Record rainfall May 1 and 2 led to flash flooding and sent downtown underwater as the Cumberland River later crested. Eleven people died, 10,000 people were displaced and there was more than $2 billion in damage. For some, the recovery lasted for years.
A flag is in tatters amidst wreckage on the flood plain along the Cumberland near Ashland City May 12, 2010 in Cheatham County, Tenn.
Elizabeth Patton, 15, cleans out her flooded room with help from her friends and her mother on Beech Bend Drive Tuesday, May 4, 2010 in Nashville, Tenn.
Recovered family photos at Allison Patton's house on Beech Bend Drive May 4, 2010 in Nashville, Tenn.
Downtown streets dry out, covered in mud, Thursday, May 6, 2010 in Nashville, Tenn.
Shawn Courtney, co-owner of Past Perfect, sits in his restaurant and tries to figure out his losses after their downtown building flooded, May 6, 2010 in Nashville, Tenn. "We're hurting, " said Courtney, unsure if he can re-open. Past Perfect is his first restaurant.
Allison Patton gets a hug from her sister-in-law as she recovers earrings from the flood damage May 4, 2010, in Nashville, Tenn. Her husband recently died in February and had given them to her.
A doorway marked with evacuation notes as cleanup and recovery get started May 4, 2010 in the Bellevue area.
Mike and Cindy Lee sit on the foundation of their house that was completely washed away by the flood May 7, 2010 near Kingston Springs, TN. The Harpeth river rose so quickly, they had 30 minutes to get out.
Students from Harpeth Middle School and High School stand in the middle of highway 70 soliciting donations for flood victims May 7, 2010 in Shacklett, Tenn.
Stanley Lemay moves back to his house mid-construction after the flood decimated The Nations neighborhood in September 8, 2010 Nashville, Tenn. Lemay's had insurance but he lost his job after the flood. His Vietnam military medals were the hardest to lose. "It's been hard, not real pleasant. But you just pick up the pieces and go on," said Lemay.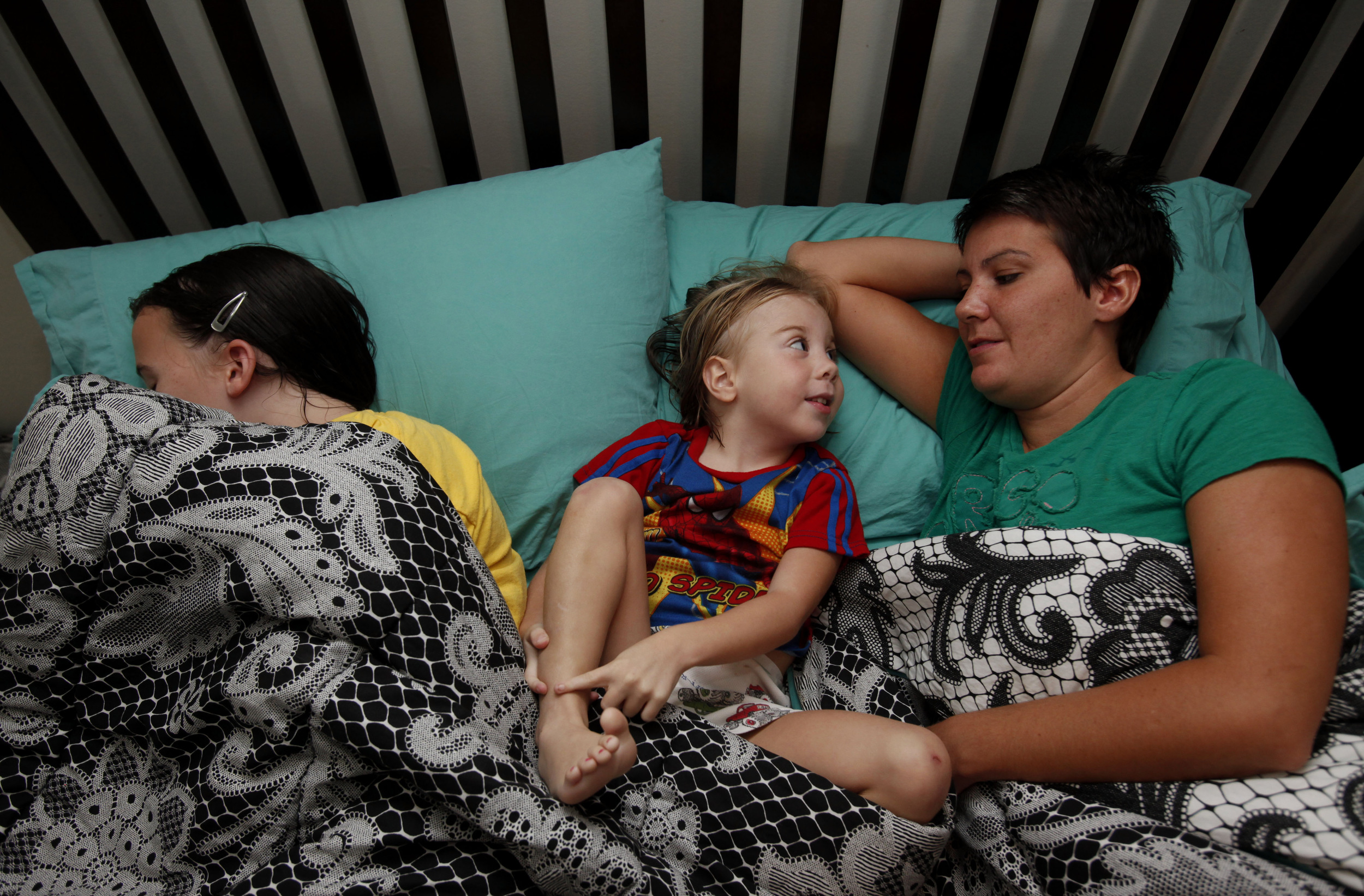 Single mother Lori Harrington sleeps with daughters Jasey, 12, and Kensley, 4, - they have frequent nightmares and anxiety at night now- six months post-flood in Nashville, Tenn. Harrington and her children narrowly escaped flash flooding after three hours in their attic in the Nations neighborhood . Harrington left her job due to the stress of recovering.
Schoolteacher Marti Margrave and her husband spend days at their flood-damaged house and nights sleeping with friends six months after the May floods. The couple is in insurance limbo, unable to rebuild until mudslide damage, costing $500,000 that insurance won't cover, is cleared from their backyard.
Sherry Wilson, sits in her son Danny Tomlinson's room with Tomlinson's nephew, age 3, April 21, 2011 in Pegram, Tenn. Tomlinson died while driving during the 2010 flood. Wilson and her husband moved into her son's house and have kept his bedroom a shrine. Her grandchildren help her cope with the loss.
Lori Harrington and daughters Jasey, 12, and Kensley, 4, spend evenings around the kitchen table in their small apartment September 8, 2010 in Nashville, Tenn. Harrington moved to an apartment and left her job due to the stress of recovering from the flood.
Gregory Proctor has been living in the gutted remains of his house on an air mattresses six months after the flood in Nashville, Tenn. Proctor said he has been struggling to get his house rebuilt and has nowhere else to go. He received $1500.00 from FEMA and wonders why flood relief hasn't reached him. "It's hard to come back from a long day of work to this," Proctor said.
R&B Musician Charlie Fite, 71 shares a laugh with local drummer Tom Larson at Fite's house, destroyed by the May 2010 flood May 11, 2011 in Nashville, Tenn. Larson has led efforts to help him rebuild, doing cleanup and construction with friends and holding fundraising concerts. After one year, Fite's house is 60% rebuilt.
Sherry Moore goes to bed on the living room couch at her daughter's house six months after the May flood September 9, 2010, in Nashville, Tenn. Moore went from getting her GED on May 1- she had a house, job and promising outlook - to disaster on May 2 as the Nashville flood destroyed her home and plunged her into financial turmoil and homelessness. Moore still goes over her GED coursework to keep on track, hoping to eventually go to college as planned.